I'm extremely passionate about dog behaviour, since I was a young boy I have been obsessed with learning about how to get a dog to behave in different ways. I find it fascinating and my passion in this area is unparalleled.
This is what compelled me to complete Certificate III in Dog Psychology, Behaviour and Training with the National Dog Trainers federation. The course is Australasia's only nationally accredited, fully comprehensive dog trainer certification course, and has Government certification through the Victorian Qualifications Authority (VQA) and is now recognised throughout Australia by the Australian National Training Authority (ANTA).
The course is heavily involved and runs over a period of 8 months. Consisting of theory lectures from some of the most prominent industry professionals in the country. Also there are many specialised practical workshops and a requirement to complete 100 hours experience in your own time at dog training centres across Melbourne.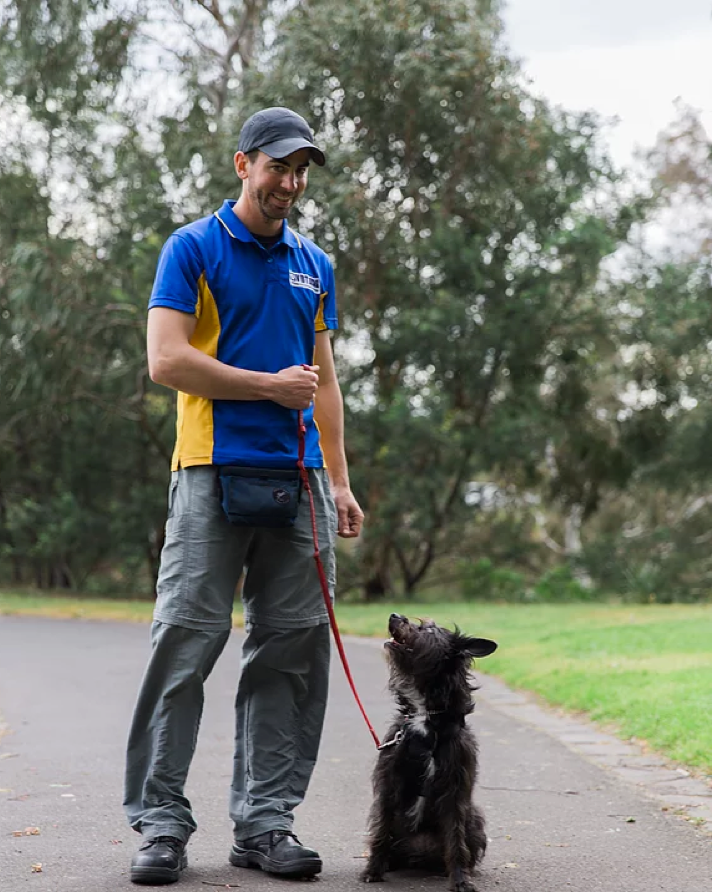 The first real "Dog Job" I had was being a dog walker in the Bayside suburbs of Melbourne, not walking two or three dogs on lead as you would imagine, but in fact picking up seven to nine dogs at a time and take them to an off lead park. Think about your own single dog and how hard it is to control at times, then think about having to control nine at once so they can be taken home again in one piece. I gained invaluable experience reading dog body language and understanding what a dog is about to do before it actually happens, this is an integral part of my skill set.
I trust I have given myself the best possible start to my career by doing the NDTF course and you will notice the passion, enthusiasm and knowledge ready to share during your private lessons.
Further to this is the invaluable practical experience and personal coaching I was lucky enough to receive from Glen Williams, previous owner/operator of the Victorian Dog Training Academy. Glen had been training dogs for over 25 years and the greatest thing I took away from him is that the results you achieve with a client and their dog are hinged on your personability as a trainer. The level of which you get to know the client determines whether you truly understand their needs and in turn gives them the confidence not only to tell you exactly what is going on with the problems they are facing but also to wholeheartedly implement the methods you prescribe to fix the issues.
I am proud to say that this is my greatest strength as a trainer, a personable, non judgmental, ethical, results driven attitude. I work tirelessly to fix issues as quickly as possible and I pride myself on giving honest realistic information regarding the results achievable and the time frame expected.
Another dog passion of mine besides addressing behavioural issues is Scent Detection Training, from 2012 to 2015 I was contracted to train and handle Detection Dogs for the Port of Melbourne during the Cruise Ship Seasons at Station Pier. If your dog is driven enough I can train it to use its nose to find any personal item of yours, it's an amazing party trick!
My journey to become a better dog trainer will never be over and this is precisely why I am so in love with the profession, I love the thought that I have dived into an endless rabbit hole in the pursuit of knowledge. I am constantly on the lookout for seminars, projects and other ways I can continue to up skill and learn from industry leaders and those who have been around longer than myself.